The Moving Beyond Trauma 'Book Club' Journey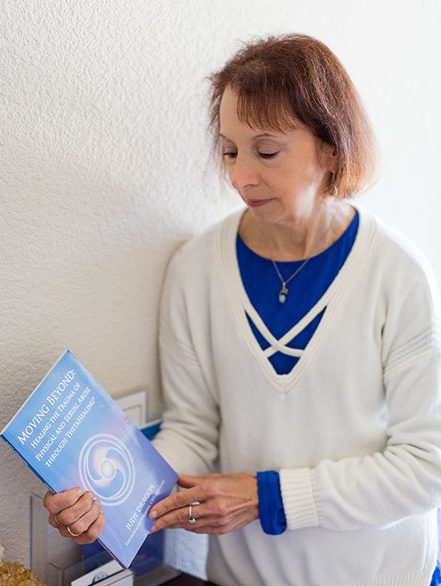 The start of The Moving Beyond Trauma 'Book Club' is Monday, August 31st at 11 AM PT continuing every other Monday for 90 minutes  ending on Monday, December 21st. Each session will focus on  different topics in "Moving Beyond: Healing the Trauma of Physical and Sexual Abuse through ThetaHealing®" book.  I will review the session topics including newer material, and then will move into questions and discussion.
The Book Club was created to assist ThetaHealing® teachers and practitioners to  assist in the healing  of physical and sexual abuse through a non-dualistic perspective. It is highly recommended for all ThetaHealing practitioners. It will be recorded for those who are unable to make the date or time. The cost is $249.  Come join us through a healing journey based in Unconditional Love! For further details, click below.
"Deep Healing Has Occurred, And Pain And Confusion Released."
Thank you, Judy, for your deep contribution. I am now a Theta practitioner after receiving months and months of Theta work, and I am still receiving Theta work… we are now working through your book. My boundaries have become much clearer and deep healing has occurred and pain and confusion released. Working through this book as allowed me to stop many unhealthy behavior patterns since my mind had confusion around sex, love boundaries and deep trust issues. I have stopped my clingy behavior and jealousy and have much more freedom in my connections and relationships as well as many other amazing shifts. I highly recommend anyone to work with this book who wants deep healing; and work with a Theta practitioner to hold loving support and do deep digging with you to bring lifelong transformation in your life.
With love and gratitude,
Lottie Grant Cooper, ThetaHealing practitioner
"I Really Think Your Work Should Be Part Of The Requisite ThetaHealing Training."
I am so grateful for your book. I was teaching the Basic ThetaHealing course, and every student had been abused. They were clearing, clearing, clearing. The night after the first day of the class, I was reading the last few chapters of your book. Of course, Creator was in charge of this timing for class! The next morning as we were doing extensive rejection work, I read to them the section on 'Clearing the Ancestral Lineage that Holds the Abuse Patterning.' This chapter was perfect in explaining how rejection beliefs on the genetic level relate to abuse and keep re-creating unless thorough work is complete. I really think your work should be part of the requisite ThetaHealing training, perhaps a separate course.
Janet Wahl, PhD, CHT, ThetaHealing® Master; Albuquerque, NM
"It's A Tough Subject That She Covers Beautifully In The Theta Context."
Judy's book is invaluable in both insight and digging on oneself and for working through beliefs with clients. It's a tough subject that she covers beautifully in the Theta context. Thanks, Judy, for your dedication to your own healing and to the healing of others.
Kathrine Williams, ThetaHealing® Master, COS, Canada
"I Particularly Like The Inner Child Meditation."
I am a Teacher Assistant of Intuitive Anatomy here in the Philippines, and it's my first time to assist a class of 15 people. I took Intuitive Anatomy last October 2012, and after less than 6 months, I decided to take it again as I really learned a lot. Your book MOVING BEYOND assisted me a great deal during my first time of IA with myself as a student of IA, and once again today as a Teacher Assistant. We were dealing with the Digestive System which had to do with storing abuse. It was and is a very valuable resource, and God bless you for making our Digging and Belief Work so much easier. I particularly like the Inner Child Meditation which some felt brought lots of triggers for some students who went through some kind of abuse in their lives but at the same time nurtures and strengthens our relationship with our Inner Child once all the hurt and un-forgiveness has been cleared. I love you from the bottom of my heart, and God bless you for being a Light to all of us and to more people who you will touch with your books and other writings. Blessings of Love and Light,
Maria Teresa Garcia, ThetaHealing® practitioner
"Everyone Needs To Be Informed Of The Extent Of These Issues."
This wonderful piece of work that Judy has compiled and written to understand the depth of child abuse trauma and how to assist in the healing is a great source of information and valuable to all of us in the ThetaHealing community as well as for other professionals. Everyone needs to be informed of the extent of these issues so we can take responsibility in our lives and prevent repeating the patterns of abuse and trauma to ourselves and others. I am grateful to Judy for sharing her valuable knowledge with all of us which is greatly beneficial to all humanity.
Eliana Eleftheriou, ThetaHealing® Instructor, Spiritual Healer & Teacher, Cyprus
"Amazing Book…Very Thorough."
Amazing book…very thorough. I saved my client several sessions with just the downloads. Thank you, Judy!
Anna Kitney, ThetaHealing® Advanced Instructor, UK
"My Clients Who Have These Issues, Feel So Much More Release Than My Previous Sessions."
This book is an insightful, amazing resource, and it's been so helpful to my clients and to myself personally. Some of the things around the abuse issues that you talk about from the book, I have already gotten from my own work with Creator although you have filled in some blanks beautifully… clued me into where else to look at myself. I know sexual and physical abuse is prevalent and in using the book, my clients who have these issues, feel so much more release than my previous sessions. There is no single modality out there that is more effective than ThetaHealing® . Therapy alone would take years to undo what your book can do in one or three sessions. I encourage everyone to get this book. Thank you for putting the time and energy into this subject. I feel so blessed to have access to it.
Suzy Donahue, ThetaHealing® Master, Certificate of Science, Europe
"Appreciate It As A Wonderful And Deeply Needed Expression Of ThetaHealing®."
I love your ebook and appreciate it as a wonderful and deeply needed expression of ThetaHealing®, one that is exquisitely shaped by your experience, wisdom and gifts. Back in the early 1990s, I was on staff at Pocket Ranch in Geyserville, CA. This therapy center seemed to be a magnet for folks with abuse issues. While reading your book, I was filled with a longing and wish that your approach had been available to us back then. What healings this work will bring, I can only begin to imagine! I would love to have a printed copy when these become available, so please add my name to your notification list. Several of my students are therapists, and I am sure that they will want to get their own copies. Thank you so much for bringing this to light.
Rose D'Agostino, ThetaHealing® Advanced Instructor; Georgia USA
"So Important That As Healers We Be Unafraid, Equipped, And Able To Hold A Safe And Sacred Space."
Got your book…it is totally awesome!!!! I am just so impressed and thankful that you took the time to compile this useful information. I would say that easliy, at least half of my clientele are adult survivors of child abuse. It is rampant and so important that as healers we be unafraid, equipped, and able to hold a safe and sacred space to facilitate their healing process. Thank you thank you thank you for writing this book! I look forward to the next ones!
~Morgan S. Taylor, Advanced ThetaHealing® Instructor, Austin, Texas
"All The Beliefs And Downloads Are Simple To Understand And Direct."
I want to thank you from the my bottom of my heart for your book on how to heal from physical and sexual abuse. I've worked with the book, and it has helped me a great deal. It is written in a very coherent, easy and useful way. All the beliefs and downloads are simple to understand and direct to get to the core of the problems. The book also broadened my awareness on the levels of abuse, such as government mind control as well as how to clear issues on the physical, emotional and spiritual level. Again, thank you for this wonderful book and the guidance of the Creator through you.
"These Skills And Understandings Are Like Navigation Lights In Dark And Complex Seas Of Pain."
I found this book a practical and helpful resource for my work with drug and alcohol addicts. I feel that I received clarity on my role as facilitator and the type of solid guidance that comes from deep experience and compassion. I could easily recognize the patterns you laid out in the experiences of my clients (and some dead end/overwhelmed moments in sessions…). Thanks so much for your lucid classifications, techniques and insights. These skills and understandings are like navigation lights in dark and complex seas of pain. Bless you for sharing knowledge and healings.
Tamar Perry, ThetaHealing® Advanced Practitioner; Israel